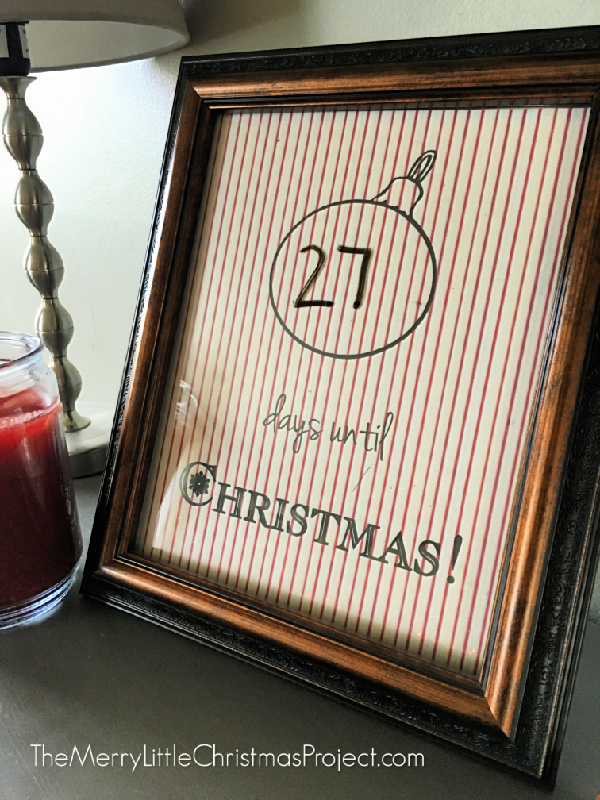 Do you remember as a child how you felt about the coming of Christmas? Were there special ways that you counted down? Maybe an Advent calendar or a paper chain or another fun tradition?
In our house, we use a printable Christmas countdown that my Mom created that we slip behind a frame. My boys love using a dry-erase marker to update the countdown each day between Thanksgiving and Christmas.
One of our core values in the Manifesto is that we choose the moments of Christmas, rather than the Moment. This means that by planning ahead and creating realistic goals, we can savor the entire Christmas season rather than just a few hours on December 25th.
What would it look like for you to savor the Christmas season? Not just your kids. I'm talking about you, my friend. I am giving you permission to consider the ways that you would like to make the Christmas season meaningful.
As I consider my very own Christmas Bucket List, I have a few categories for what makes Christmas meaningful to me.
View this post on Instagram
Faith: 
Christmas is part of my faith tradition and so I always want to focus on the beauty of the birth of Jesus. This means that I like to make space for attending events like a Live Nativity and Christmas Eve services. I enjoy our nightly Advent readings with our boys during the month of December to help us reflect on the beauty and significance of this season. There is nothing more beautiful to me than remembering the humble simplicity of that baby born in the manger. (We have some lovely ideas for ways to honor the Advent season here.)
Community:
I love the ways that Christmas draws people together and so I enjoy spending time each year with friends and family. Whether it be the annual Elf party I hold for the girls in our church, or our Neighborhood gathering after our town's Christmas tree lighting each year, I enjoy making space for connecting with others. We keep it simple – but I love the sense of camaraderie that comes with gathering around mugs of hot cocoa, Christmas music playing, candlelight in the fireplace flickering and kids running through the house. It's part of what makes Christmas meaningful to me.
Reflection:
The final aspect of Christmas that I hold dear are those moments where I can put my feet up, turn off all the lights except for the Christmas tree and simply drink in the moment. I live for those moments of peace and calm, soaking up the ambience of the season. I try to take some time to simply sit and reflect every single day in December. And because I have done the work of preparation ahead of time, I can!
Friend, what is holding you back from experiencing the Christmas season in all of its beauty? Are you making space for what is important to you? I want to invite you to consider the aspects of the Christmas season that are most meaningful to you and take some time today to create your own Bucket List for the season.
Based on your season of life, maybe your list will be much simpler than mine, or maybe you have a much longer list. That's not what matters. What matters is focusing on what your heart actually wants rather than what you "think" you should want at Christmas.
What is going on your Christmas Bucket List this year, friend? Leave a comment and let me know!