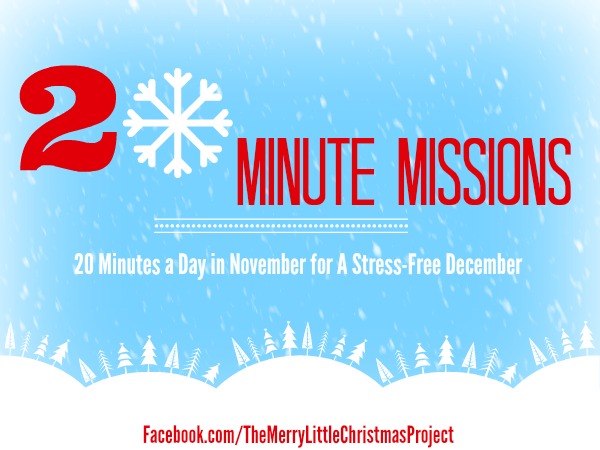 Daily 20 Minute Missions for November
Our Daily 20 Minute Missions are a core tool that help us to prepare for the Christmas season. We simply take 20 minutes a day in the month of November to tackle an item on our Christmas To Do list. These daily Missions have simplified Christmas in so many ways for me and others who are part of the MLCP community.
The goal? To accomplish enough in November that we can actually savor the holidays in December. 
You may decide to follow my schedule below or create a schedule of your own based on your needs. That's up to you!
Important Note: Use pages 10-13 in the planner to create your very own 20 Minute Missions schedule. (Note: The Planner is included as part of A Stress Free Christmas course.)
A few things I'd like to highlight before we begin our 20 Minute Missions: 
I know that everyone has a different schedule. For some, it would actually be easier to set aside an hour or two one day to tackle the missions for that week. That is great! Set yourself up for success and consider what times/days will work best for you.
I also know that not everyone has the same Christmas To Do list as me. I'm offering my 20 Minute Missions calendar as a guideline. I encourage you to switch out any of my To Do's with your own.
Some of the tasks listed could definitely take more than 20 minutes. If you only have 20 minutes, then tackle the task that day with gusto and finish only what you can. If you have more than 20 minutes, then great! Remember – everything that we accomplish is one less thing to do in December. So every minute counts!
I like to set aside a chunk of time on the weekends for the bigger tasks, that's why you'll find that the Missions on Saturdays will likely take more than 20 minutes. Feel free to change that up if another day is better for you.
Are you ready? Let's begin!
For those who are a part of our Stress Free Christmas course and community, I'll be sharing FB Live videos each day so we can encourage each other with our missions. Click here to join the course if you need extra support and encouragement to accomplish your missions.
Daily Schedule:
11/1: Prepare my Christmas planner. (If you have joined me in A Stress Free Christmas course, there is a planner available for you to print. If not, you can purchase a 3 year planner or 3 year planner/book combo from Amazon.)
11/2: Determine budget. (Budgeting tools and tips are included in the Bonus section of the Stress Free Christmas Course.)
11/3: Begin my Christmas list and ask for others' lists (including extended family). Use Amazon Wish List to simplify things.
11/4: Prepare my wrapping station. Check to be sure I have all the wrapping supplies I will need. (Plus wrap any gifts I've already purchased.)
11/5: Christmas Card Prep Day plus organize my photos online for photo gifts. (Be sure to make a list of photo gifts I plan to create.)
11/6: Sunday (Day off)
11/7: Check Rule of One gift ideas for handmade gifts. Make a list of supplies needed.
11/8: Shop for any supplies needed for handmade gifts.
11/9: Work on handmade/photo gifts.
11/10: Work on handmade/photo gifts.
11/11: It's a Wrap! Wrap any gifts I've already purchased. (Also – Freezer Crockpot Meal Prep Day for the Stress Free Christmas community!)
11/12: Finish Christmas cards. Set aside to send out later.
11/13: Sunday (Day off)
11/14: Finish any photo/handmade gifts.
11/15: Make sure all gift lists are finished.
11/16: Shop for gifts.
11/17: Plan a Bucket List for December.
11/18: It's a wrap! Wrap any gifts I've purchased.
11/19: Shop for baking supplies for Freezer Baking Day.
11/20: Sunday (Day off)
11/21: Tackle a de-cluttering project.
11/22: Day 2 of de-cluttering.
11/23: Focus on Thanksgiving Prep.
11/24: Happy Thanksgiving!
11/25: Black Friday/Wrap any gifts I've purchased.
11/26: Join me in a Freezer Baking Day!
11/27: Sunday (Day off)
11/28: Continue shopping.
11/29: Finish up shopping.
11/30: Prep Advent Box.
Let December begin!
Click here to learn more about The Merry Little Christmas Project.