Not familiar with our
Rule of One
? These are the types of gifts that can be given as gifts to neighbors, teachers, friends and more. One Gift + One Prep Time = A Simpler Christmas
I love candied nuts–at a restaurant if there is a salad with candied nuts, it's a given that I will order it.  So it's no surprise that I have decided that candied nuts would make a delicious gift to share at Christmas time.
I did some Pinterest searches for a recipe, but since I'm less-than-gifted in the kitchen, the ones I found had more steps that I dared process. Then I came across
this
post, and thought, "I can do this!"
THREE ingredients; THREE steps. I
can
do this!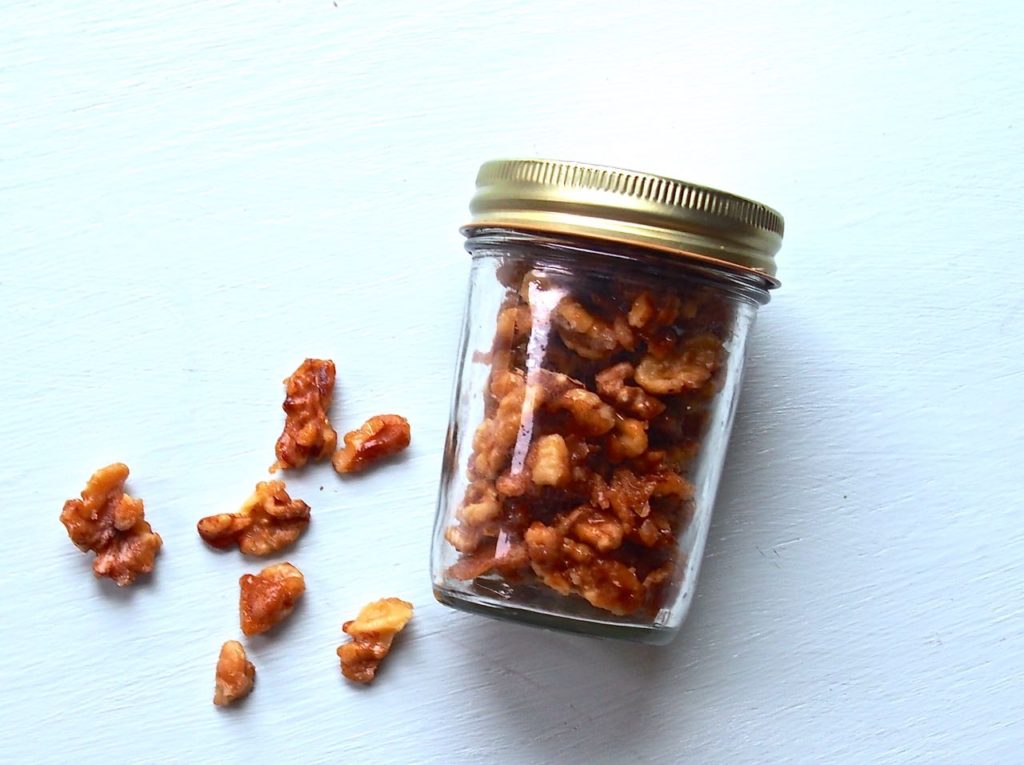 I pulled out my frying pan and made my first ever attempt at carmelized walnuts. In ten minutes I had mastered–yes, mastered–the recipe. It's that easy.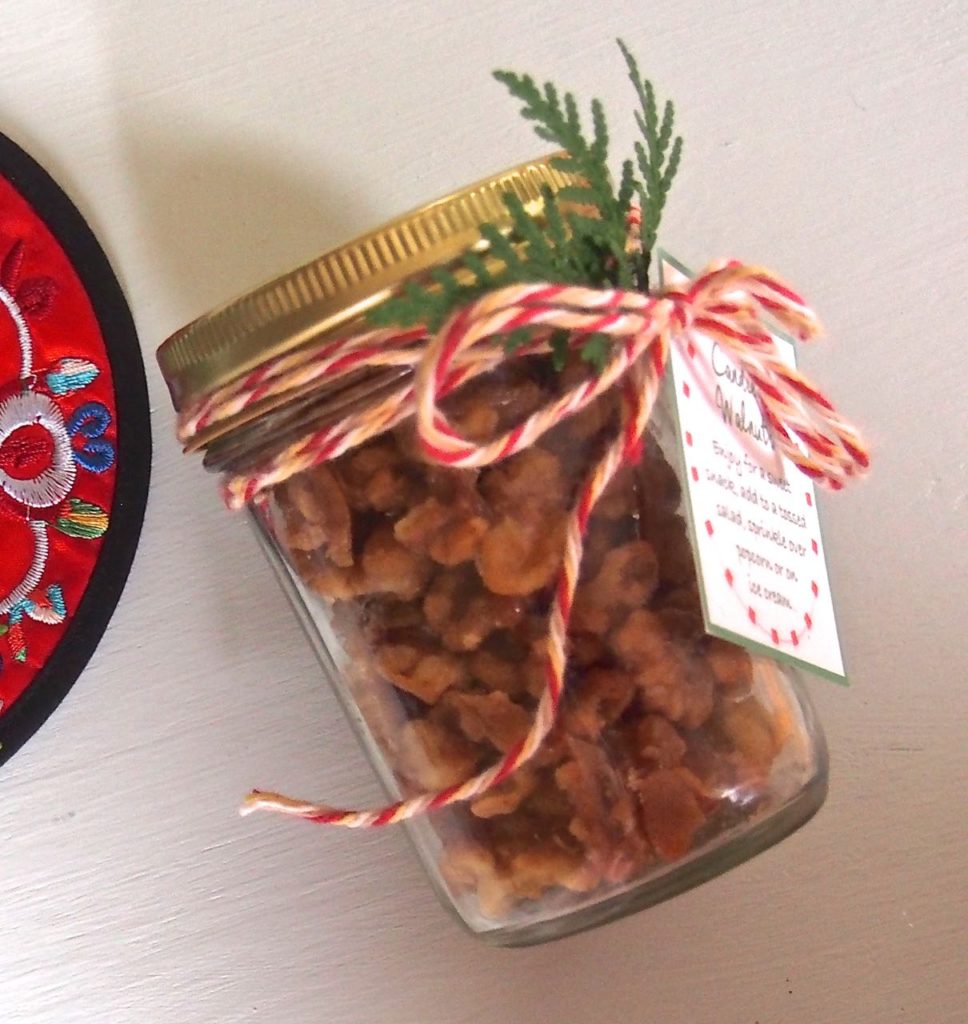 Candied Walnuts/Pecans
 Ingredients:
1 1/2 cups walnut halves/pieces
1/4 cup white sugar
1 Tbsp unsalted butter
Instructions:
Heat a nonstick skillet over medium heat; add 1 1/2 cups walnuts, 1/4 cup sugar and 1 Tbsp butter.
Heat over medium heat for 5+ minutes, stirring frequently so the mixture doesn't burn. When the sugar mixture starts melting, stir constantly until all the sugar is melted and the nuts are coated.
Quickly transfer the mixture onto a sheet of parchment paper and rapidly separate the nuts so they don't cluster.
Now the fun begins: Once the coating hardens (5+ minutes), put the walnuts in an airtight container and keep it at room temperature. To make a decorative gift, I wrapped baker's twine and some greenery around the jelly jar I used and attached this candied walnuts printable tag. [Note: For a larger jar, print the tags at 100%; for a smaller jar, print the tags at 90%.]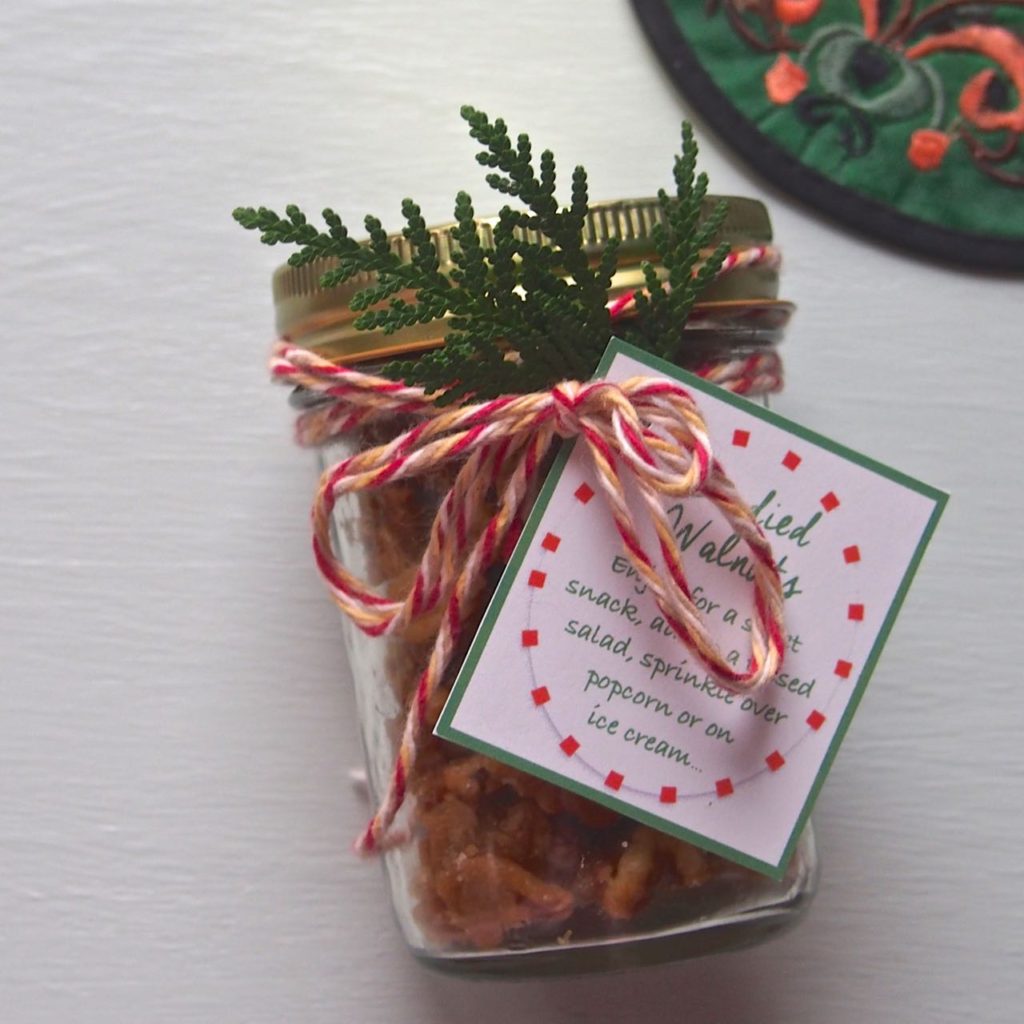 So there you have it, an easy gift for neighbors, friends, teachers that also fits in the Twenty-Minute-Mission category. It's a win-win-win gift!