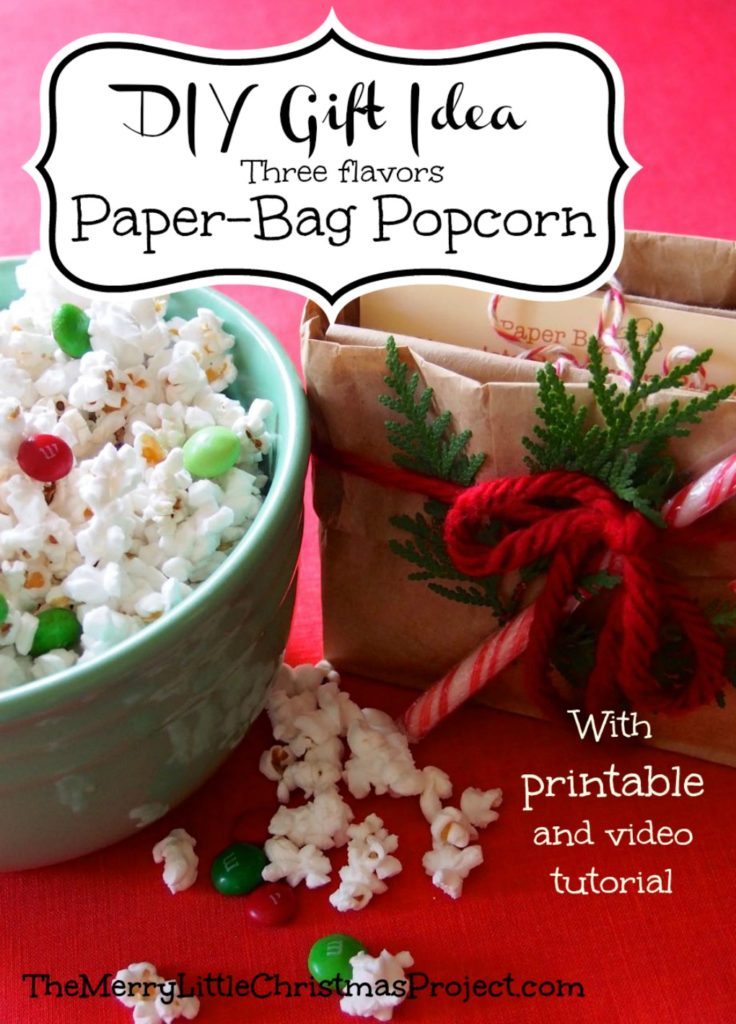 Not familiar with our
Rule of One
? These are the types of gifts that can be given as gifts to neighbors, teachers, friends and more. One Gift + One Prep Time = A Simpler Christmas
There is a current trend toward minimalism; people are decluttering their homes, getting rid of anything they don't need or love. When I make decisions about gift-giving, one of my goals is that the gift will be "consumable". I don't want my family and friends to be stuck with something that they neither need nor want, or something that will add clutter to their home.
I saw this popcorn post online and fell in love. With the help of the brown lunch bags, these cute-as-can-be popcorn gifts fit the bill perfectly: everything we give our friends, children's teachers, co-workers or neighbors is either consumable or recyclable.
And it's perfect for Christmas and New Year's; afterall, when do we wrap up in blankets, munch popcorn, and watch movies more often than during this holiday season?
Recently some friends and I got together at my house and packaged the following three popcorn-treats. Laughing and talking together, we discovered that creating them was as much fun as giving them.
#1 Buttered Popcorn Recipe
First, place 1/4 cup popcorn kernels in a brown lunch bag.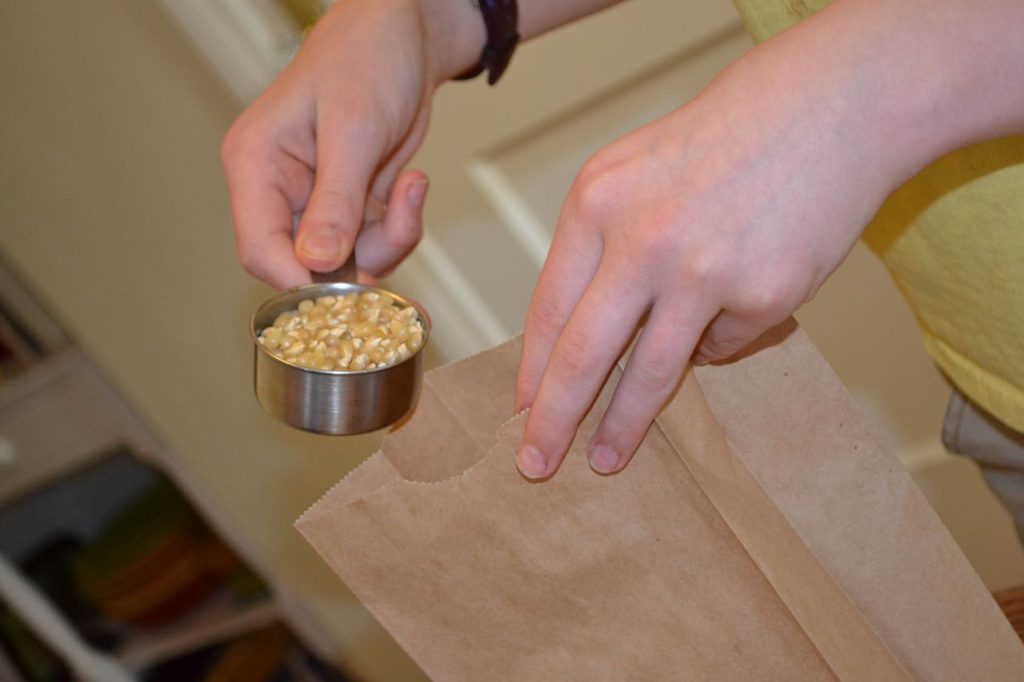 Fold the bag once…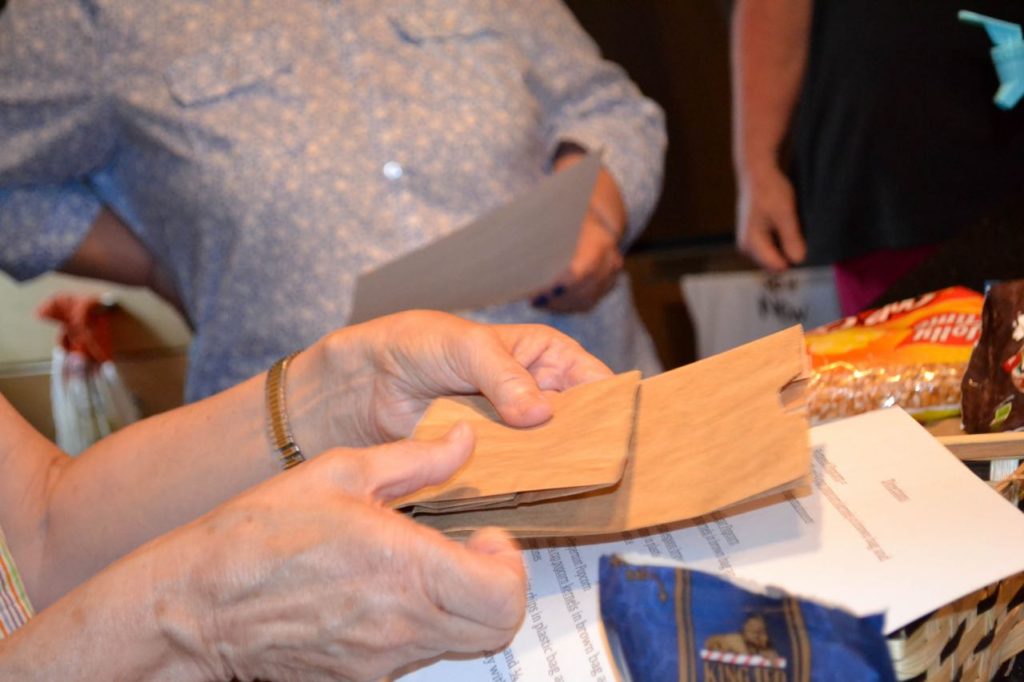 …fold it again …then flatten it.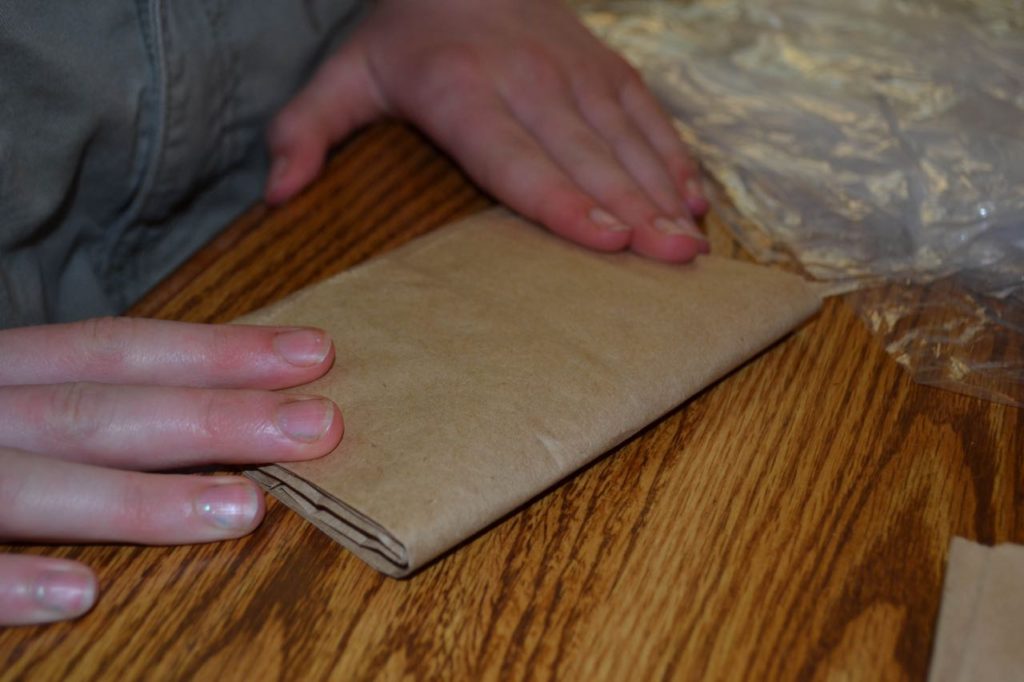 From the printable, cut out the Paper-Bag Buttered Popcorn instruction card.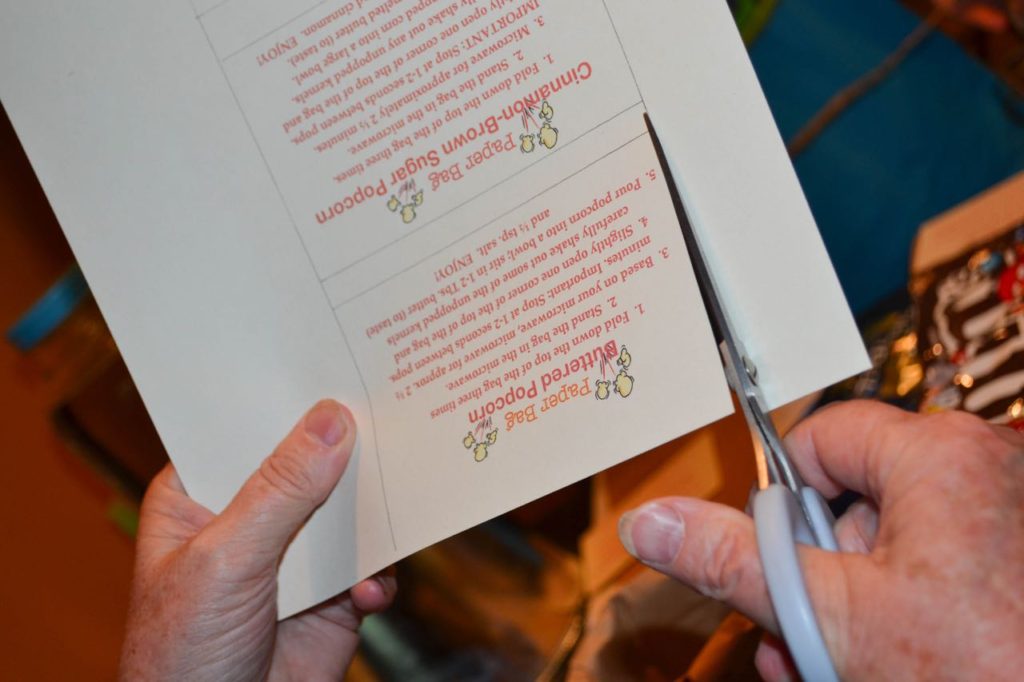 Lay it on top of the folded bag (it doesn't need to be adhered) and wrap it with yarn, ribbon or twine.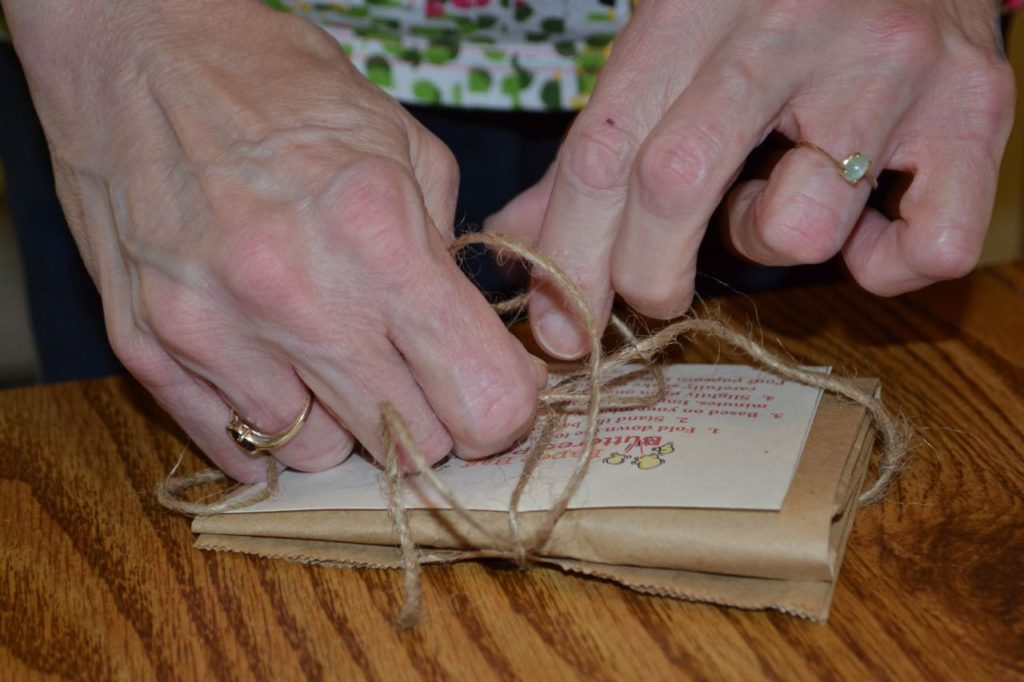 Now, isn't that just the cutest thing?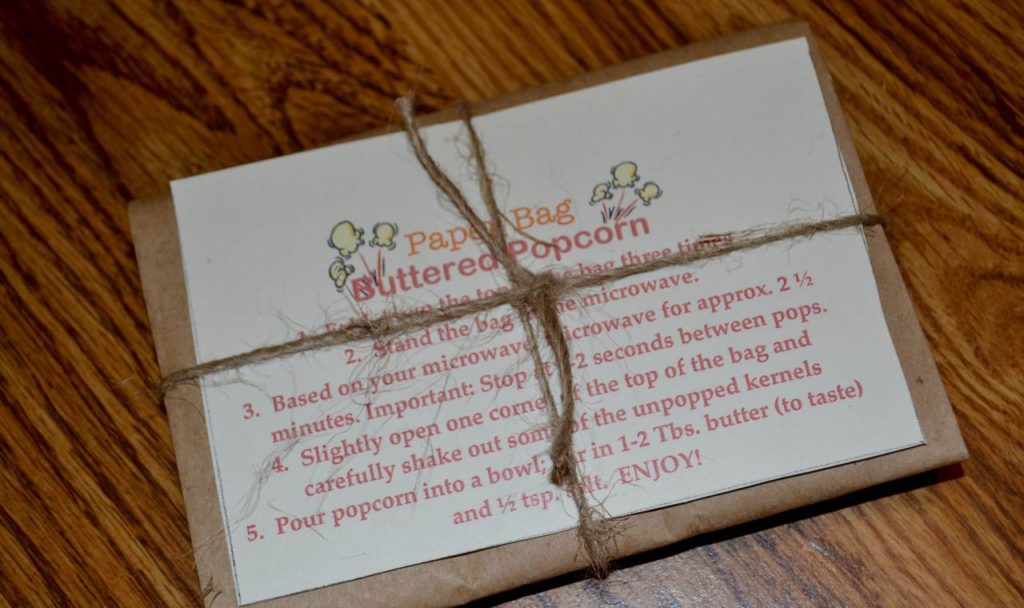 Popcorn Treat #2: Cinnamon-Brown Sugar Popcorn
Place 1/4 cup kernels in the brown bag, fold it two times, then flatten a bit as shown in the pictures above. From the printable, cut out the Cinnamon-Brown Sugar Popcorn instruction card and follow the directions above.
Put one tablespoon of brown sugar and one teaspoon of cinnamon into one plastic sandwich bag (not Ziplock–Dollar Store bags work great), mix well, and close tightly with a twist-tie.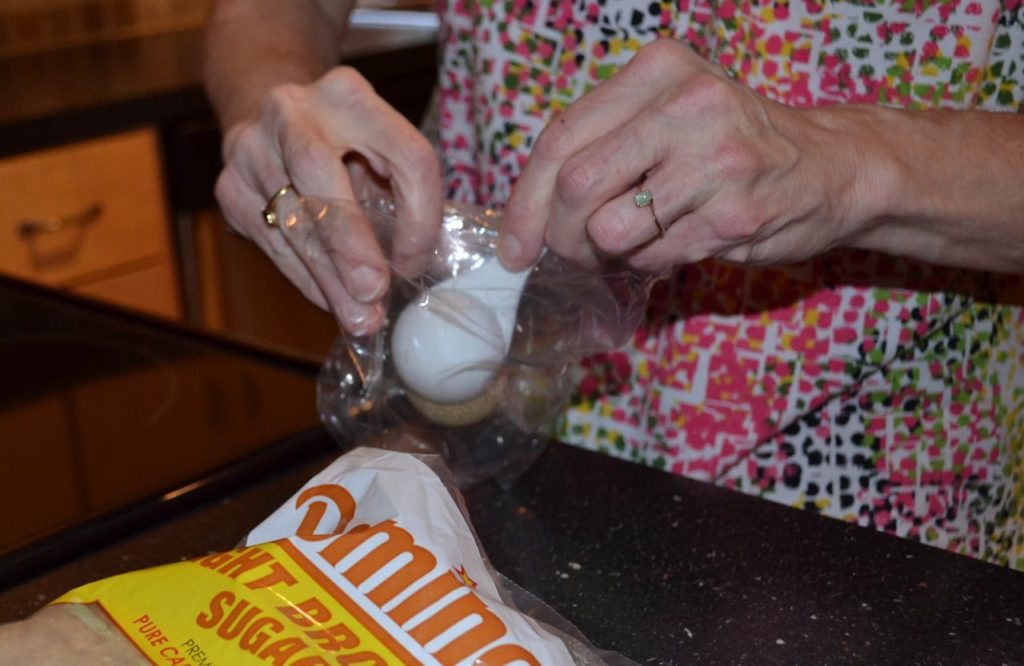 On the back of the popcorn package, attach the plastic baggie onto the twine or yarn  by twisting the same twist tie you used to close the baggie  around the twine [as shown in the video below].
#3. The final treat is the sweetest of all:  Chocolate-Peppermint Popcorn
As with the previous recipes, pour 1/4 cup popcorn kernels into a brown lunch bag and fold it into thirds. From the printable, cut out the Chocolate-Peppermint Popcorn instruction card and follow the directions above.
Next measure about 1/8 cup of chocolate chips (any brand) into a plastic baggie, and close it tightly with a twist tie.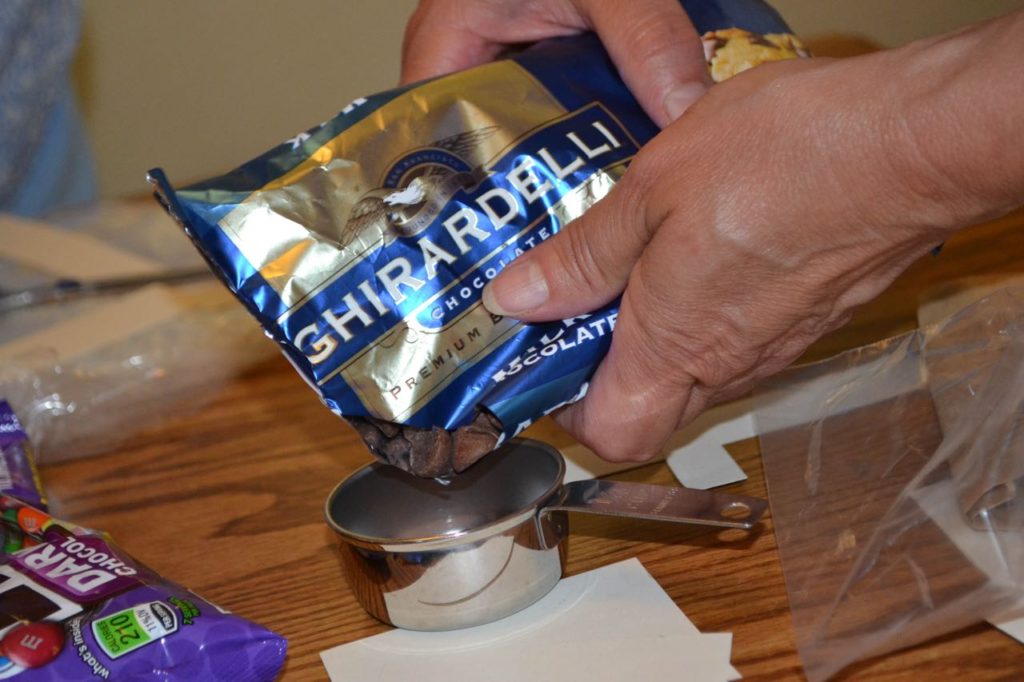 Finally, place 1/4 cup crushed peppermints and 1/4 cup M&Ms together in another plastic bag and close it tightly with a twist tie.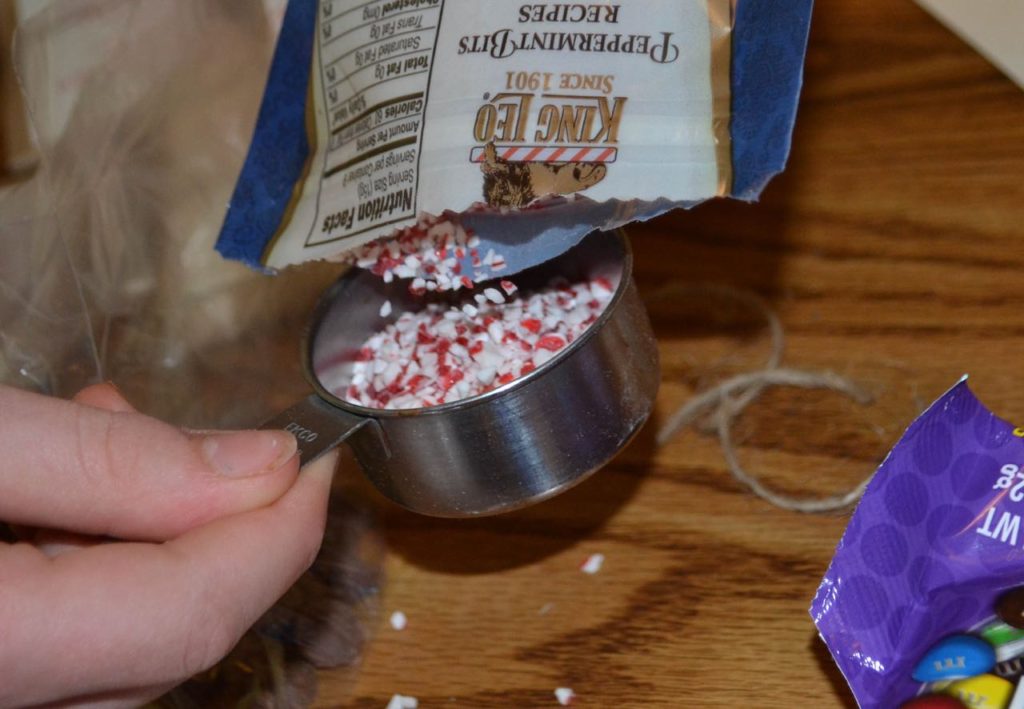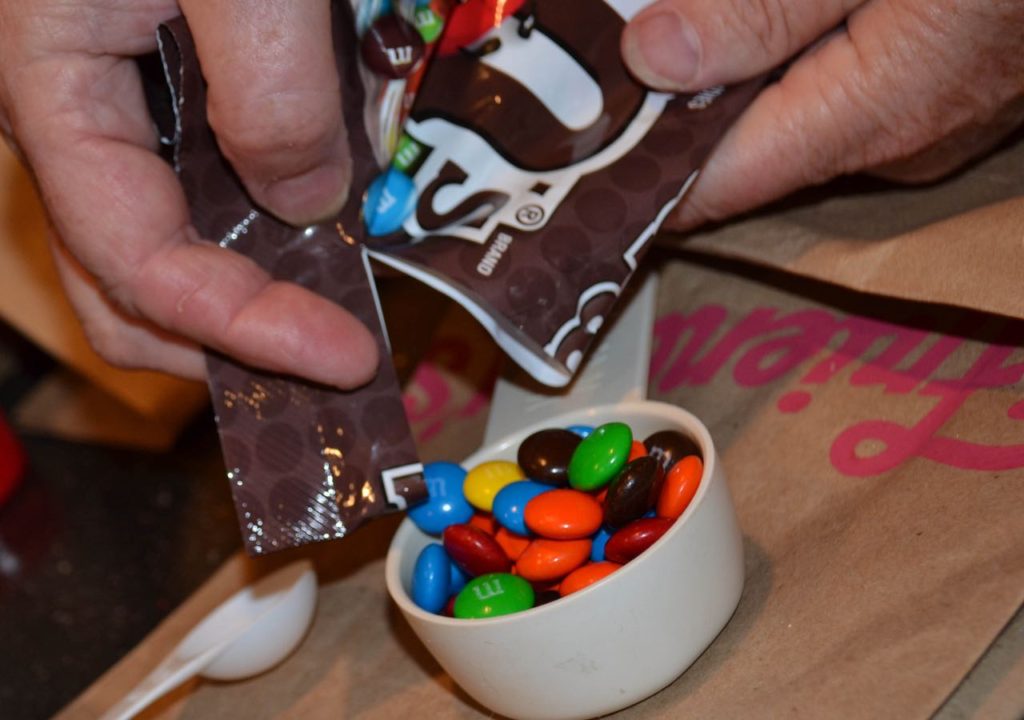 Attach the two baggies onto the back of the package as described above and shown in the video below.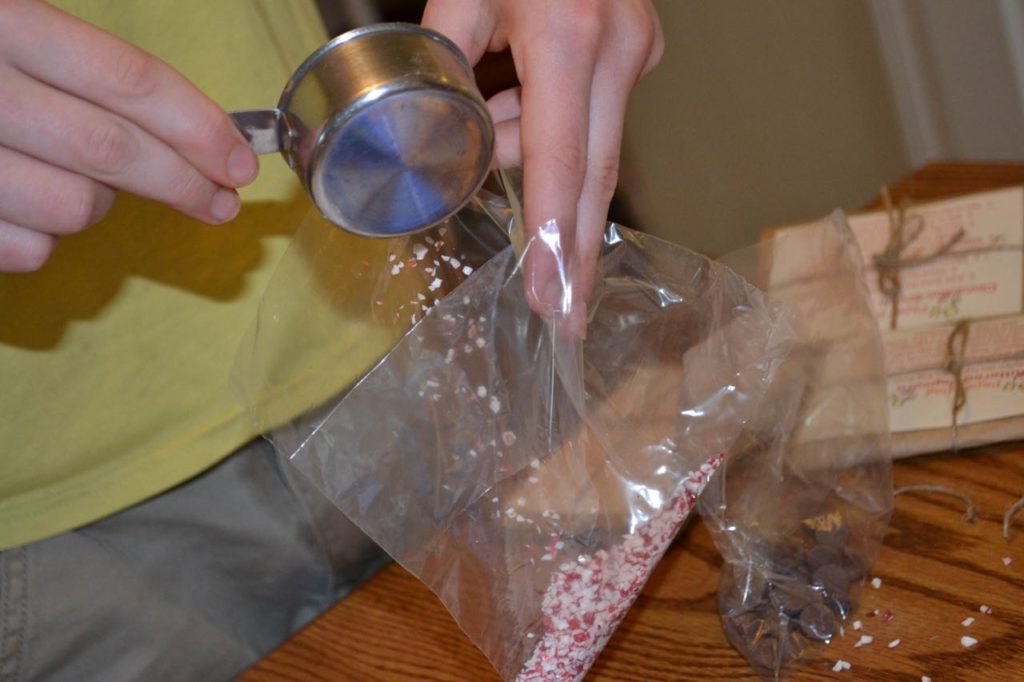 To package the three bags, open yet another lunch bag and start folding it down from the top about three times until it is about the same height as the folded bags of popcorn. Three fit perfectly in the little paper "basket" you have created.
So there you have it–a Rule of One Christmas gift idea.
**Before you create these as gifts, you might want to taste-test the three recipes. If your preference is not sweetened popcorn, you can simply put 1/4 cup popcorn kernels in each of the three bags, fold them, wrap them with twine and then use a single "Buttered Popcorn" instruction card.**
Twenty-Minute Mission Idea: Print out your printables, gather your supplies, and create an assembly line with some friends. You might be surprised at how many of these happy-little gifts you can whip up in twenty minutes!
***
Thanks to my Mom for sharing this super fun idea (and for the awesome video!). Stay tuned for more creative and crafty ideas from her soon!